It's strange. I thought that a week away without my kids would allow me to revert back to who I was three and a half years ago before I became pregnant with Addison. Lots of energy, a drive to work work work, not a care in the world except what I had come there to do.
Turns out, you can't go back in time and be the person you used to be before motherhood. Yes, I slept through each night, went through the day without sticky fingers patting down whatever I was wearing (I'm not gonna lie- that was kind of nice), and had extra time to work on my book. But for some reason, I felt strangely empty.
Maybe it's the age that my two are at- very much needing me for everything. Being suddenly cut off from being the one that they depended on, I lost my usual drive to work and felt my inspiration slip away.
While standing in the middle of crisis with toddlers flying orbits around my head and crumbs underneath my feet, my mind is overflowing with words- long words, short words, funny words, serious words. While sitting in a quiet hotel room with only my friend the computer, my mind was a blank.
Motherhood has changed me. I knew that before this trip, but I didn't realize how much I guess. I can never go back and be the person I was before welcoming the little people into my life.
In honor of the inspiration of motherhood and to thank you for being completely awesome these past few days...
EANFE (Everything and Nothing From Essex) is giving away a $25 gift card to Toys R Us
#1 is a requirement to enter, but then you can get additional entries by doing any of the other options:
1.
Follow EANFE in some way-email, blogger, Facebook...etc (see the buttons on the top right of this page)
2. Share this giveaway-twitter, Facebook...etc (you get an entry for each share)
3. Tell us where you're finding inspiration today
Please leave a comment for each way you are entering the giveaway, and next Monday (July 30th) one commenter will randomly be chosen to win. The giveaway will close at 12pm EST.
aaaaaand there's more. This giveaway is a part of a Baby Bash Giveaway Blog Hop, so even if you don't win this $25 gift card, there are lots more prizes to win on other blogs. (-: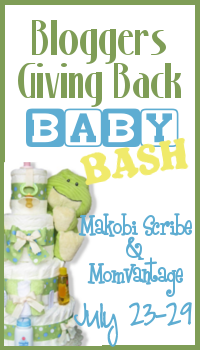 Ready for another great giveaway hop? Join the
Bloggers Giving Back Baby Bash
hosted by
Makobi Scribe
and
MomVantage
with the grand prize as a Diaper Cake from Diaper Cake Walk. Enter the grand prize giveaway
here
. The idea of this hop was to give back to the community and donate the items that bloggers received to review.