Wednesday, December 14, 2011
Bloggy Cookie Exchange
When I cook, I tend to err towards the side of complicated...every dish in my kitchen ends up dirty in dramatic fashion...and it takes three loads through the dishwasher to finally restore order to my little kingdom (yes, I have a sign in my kitchen that reads
Queen of the Kitchen
...don't you?)
So, when deciding what cookie to share for today's bloggy cookie exchange, I decided to go simple because this week I've also been working on building this:
from scratch, of course (I warned you that I tend to complicate)...don't judge all of the extra frosting. I had to redo it twice because I'm challenged that way (thankful for a friend who can cut straight lines and can construct a house!)
Anyhoo, I digress, the gingerbread house will be for a different post. Today's post? I want to share the awesome SUPER SIMPLE recipe that I found online the other day. It's perhaps so simple that you all have known about it for years and it's just now that I'm catching up. But just in case you haven't heard about it...here's
The World's Easiest Christmas Candy Recipe:
(I realize that's not a COOKIE...but you all get that I'm going for a concept here)
Start with a greased cookie sheet.
Lay down a row of saltine crackers.
Melt one stick of butter and one cup of brown sugar in a saucepan until gooey and then spread over crackers.
This is what it looks like if you don't cook it long enough. (not that I would ever do that. lol)
Put crackers coated in butter/brown sugar into the oven at 350 for 5 minutes.
Remove and pour on 2 cups of chocolate chips.
As the chocolate chips melt, spread around with spatula
(this dessert makes Addison make this face.crackers and chocolate are her two favorite things)
Put in freezer for 1 hour. (not Addison...the cookie sheet)
Break up into pieces and serve.
What'd I tell you? EASY PEASY....but sure to impress with the sweet/salty/candy thing going on here.
SO???? What Christmasy goodness is happening in your kitchen these days?
(besides the constant wash, rinse, empty trash, make more coffee endless cycle)
Link up and grab this button:
you know you want to...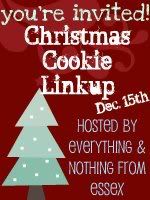 It's like an actual cookie exchange...but you don't have to make a million dozen or consume 10,000 calories before lunch with all the sampling (Although I
would
recommend a cup of coffee while reading the posts...with lots of
CREAMER
of course)
If you don't have time to take your own pictures...that's OK. Just share with us the ideas you've found in a way unique to you. We're all looking for new ideas and why not have a little fun sharing?
(and if you're going to link up...consider following Everything and Nothing from Essex???? I don't bite...and even if I did, you're probably far enough away that it wouldn't matter anyway...)
Bloggy Cookie Exchange co-hosted by
Chambanachik
and if you don't have a blog, you could always leave a recipe link in the comment section...would hate to have you miss out on the fun. (-:
Like peanut butter on the fingers of a curious toddler, this post is begging to be shared.
Posted by

Deanna
at 9:59 PM