I don't have any cute pictures to share today. I don't have any witty lines or jokes. I don't have any profound thoughts. I don't have the physical energy to type a long post.
Why?
Because....I just finished playing the second to last show of Light in the Piazza, working a full week, caring for an eight month old on oxygen with many therapy appointments, and arranging all of the last minute details for me to be in Boston for the next two weeks. In short, I am exhausted, both emotionally and physically.
In hindsight, was doing the show a great idea? Well, no. But, to be fair, I didn't know about the heart surgery when I committed to it....
In spite of all of that, I am posting tonight to be part of the Down Syndrome awareness blog posting. (thus the fragmented sentences and the graceless wording)
For those of you who didn't already know, October is Down Syndrome awareness month. One of the goals of my blog is to help share our experiences with DS, and show that perceived differences don't have to be bad. They can be a beautiful thing.
Addison has Down Syndrome, but she is more importantly a beautiful baby with a HUGE personality. (-:
I am joining the hundreds of other blogs with the "31 for 21" campaign posting every day in the month of October.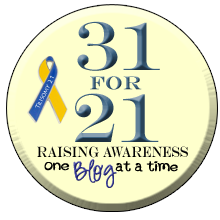 Grab This Button
I won't always post just about DS, but it does affect a lot of what we will go through every day especially in the next few weeks.
Now, for everyone's sake. I will stop now before I start complaining about life in general or some other nonsense that would cause me open mouth, insert foot.
Oh hello, bed. It's been soooo long.....